Syngency's all-new mobile app for iOS and Android is the culmination of our year-long endeavors to create a range of exciting new features for your agency.
Syngency continues to strive to help you streamline your day and grow your career, ensuring you will spend more time doing what you are best at!
Here are some of our exciting new features:
Complete profile management
Manage and maintain profile information, including contacts, skills, and resume details. Unlimited uploads of images, video, and audio to galleries.
Bookings & Castings
View a full schedule of upcoming jobs, call times, production details, fees, map assisted- directions, and on-location check ins.
Book an Uber or Lyft ride directly to the shoot location.
Custom agency content
Receive custom content from your agency – onboarding guides, important documents, and anything else they have front-and-center for you each day.
Looking ahead
This latest version of Agency Talent paves the way for a range of great new features for you in the future, including:
e-Signing of documents and contracts.
Instant access to statements and job remittances.
A completely refreshed Talent Portal.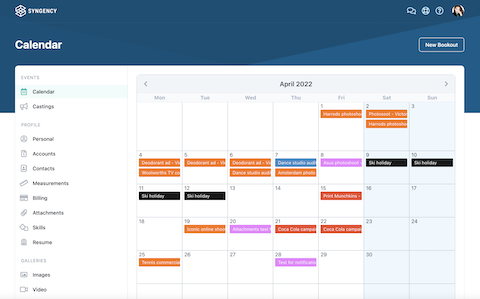 Coming soon: the new Syngency Talent Portal
Check it out and download today!